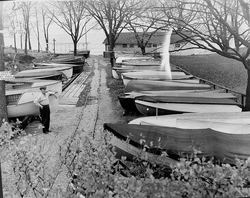 Welcome to the Web site of the Avon Lake Boat Club
The Club is open to residents of Avon Lake, Ohio. We have approximately 120 14 ft class motor boats and 24 kayaks. The Club is very popular and therefore there is normally a 3-5 year wait list to join the Club. If you are interested in being added to the wait list, please use the "Contact Us" option on this site to provide your contact information and your choice of motor boat or kayak space (1 to a person). Please be sure to provide appropriate contact information, remembering that email and cell phone numbers frequently change.


---
---
2016 ALBC WALLEYE DERBY
JULY 16 TH
*BLOW DATE JULY 23RD
Open fishing time from 7:00am to 11:00am
Weigh in and cookout : 11:00 am
TOP 3 Fish will be measured and prizes awarded for 1st, 2nd and 3rd place. Food and beverages will be available for all participants. (only one prize per boat/team. Must launch from the Boat Club)
We also have some great door prizes to raffle off for all attending. Some great prizes are getting donated from local businesses.
1st place $100
2nd place $75
3rd place $50
Biggest Sheepshead $25
(Honor system: measure it and take a picture. Don't bring it back if you are not going to keep it)

Youth Prize for Biggest Walleye and Sheepshead
(16 yrs and under)
Please contact Brian Lam 440-653-1508 if any questions


---
2016 Spring Social

4th Annual Spring Social

The Social was very well attended with lots of great food and friendship. We honored two new lifetime members, Ron Kaminski and Dick Ebenginer for their contribution and committment to the Club. The kids all received prizes for participating in the casting contest, and some lucky attendees also left with gift cars and prizes of their own.

Thanks to all who worked to make the night a successful event.
---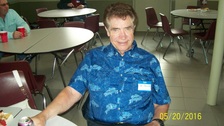 Ron Kaminski brought some great Salmon to the Spring Social. Many people asked for the recipe:

The Famous Kaminski Grilled Salmon

Ingredients:
· Lowery's Sesame Ginger marinade
· Montreal Steak Seasoning
· Pomegranate molasses- imported from Lebanon
· And of course salmon

1. Rise and cut salmon. Optional: sprinkle lemon juice on cut salmon and let set for 15 minutes. This takes any fishy taste away if salmon is a little old.
2. Pat dry salmon and put cut pieces in bowl with sesame-ginger marinade...let set for 15-30 minutes
3. Set broiler for med.-high
4. Put marinated salmon pieces on pan. Sprinkle Montreal Steak Seasoning on pieces.
5. Broil salmon for 3-4 minutes on "HIGH". NOTE: Look for the surface of the salmon to be slightly brown and dry. Target having the salmon about 70-80% cooked.

NOTE: Putting in broiler oven for the ~3-4 minutes: This helps raise the internal salmon temperature before final broiling and helps de-water the salmon. This can shortened if you like the salmon slightly pink inside.

6. Pull pan from broiler.
7. Drip from the bottle, or spoon a thin layer of pomegranate molasses on the surface of each piece. Don't brush it on since it will disturb the Montreal Steak Seasoning.
8. Place pan back in the broiler on "HIGH" for 4-5 minutes. NOTE: You are looking for a caramelizing of the surface of the salmon. It should start blackening around the edges and center top surface.

Bone-ie appetite..... In French, I think that it means "lots of luck and don't choke!"
Ron


---
2016 Pride Day
---
Meetings - 4th Thursday Jan-May & Oct
7:30 PM Old firehouse
rt 83 and lake road


---
---
Avon Lake Boat Club 2016 Officers & Trustees
---
Meetings: 4th Thursday Jan-May, & Oct 7:30PM North Bay Room



---
2016 Dues
The refunds associated with the Launch Construction ended with the 2015 Boating Season

Club Officers have been meeting with the City regarding negotiation for lease renewal and for replacement of the West Creek wall to restore the Club to full operation. We are compelled to increase our current dues in order to meet the requirements of our future financial obligations.

During the January 2016 Avon Lake Boat Club General Meeting, a motion was raised and passed to modify the 2016 season dues as follows:

Membership - 2016 Annual Dues

Motor Boat and Kayak
$250

Retiree (Motor and Kayak)
$200

Seniority Only
$25

Dues are required to be paid before March 31st. Those not paying on time may be subject to late fee fines.
Dues can be paid during the February and March ALBC meetings, or they can be mailed to:
Avon Lake Boat Club
PO Box 17
Avon Lake, Ohio 44012



---
---
---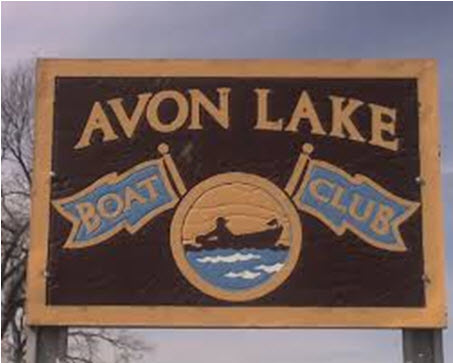 ---